Tron Robot
ROBOTIC PALLETIZER and PALLETIZATION ISLANDS
Our robotic palletizer division has been designed to meet customer's needs in terms of speed, footprint and final configuration. Designed and built on sturdy load-bearing structures without neglecting the elegance of the unique DM PACK design. The pick & place head of TRON ROBOT can vary according to the type of product to be palletized, and is chosen tailored to the product to ensure delicate handling and correct positioning before final placing on the pallet. TRON ROBOT and DM PACK palletizing islands allow a wide range of configurations and different layout possibilities.
Click on the active point for more information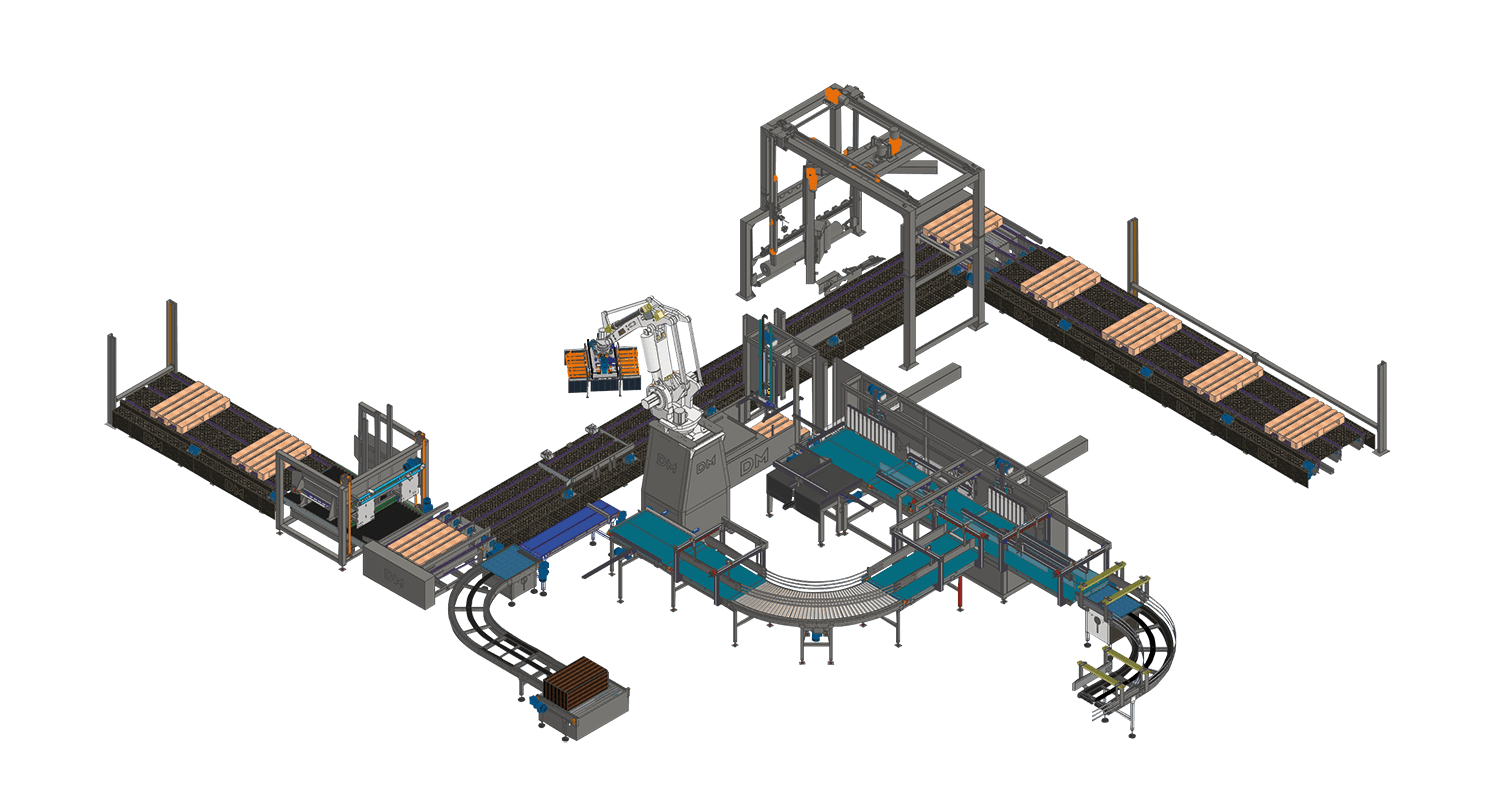 The automatic pallet warehouse – dispenser allows automatic positioning (without line stop) of the empty pallet on the roller conveyor, to let the robot filling it with the incoming products; the same also allows to automatically remove the pallet that must be stacked.
Robot ABB/COMAU/FANUC available on customer's request, with dedicated pick & place head based on product type
Interlayer dispenser/storage to give greater stability to the final pallet
Feeders and Grouping systems equipped by motorized pushers to divert the incoming products into different channels towards the palletizing station.
Automatic stretch wrappers with pre-stretch and top cover or with rotating table, to prepare the pallet for the final unloading. Possibility to add label applicators and printers.
Motorized roller conveyors with catenary for pallet moving along the line and pallet accumulation. They are modular and can adapt to any type of layout, thanks to the wide choice of lengths available

ROBOTIC PALLETIZER and PALLETIZATION ISLANDS
General features
Our robotic palletizing systems revolve around the TRON ROBOT, ABB (COMAU or FANUC alternatively) which, together with the synergy of the other modular stations that compone the island, allows different solutions for your end of line. Depending on the type of product to be palletized, dedicated gripping heads are available, to allow a precise and accurate handling. The palletizing island can be arranged with various stations as: motorized roller conveyors with catenary for pallet moving and accumulation, interlayer carton storage, automatic pallet dispenser and storage, automatic stretch wrapper with top cover and pre-stretch or rotating table, 90° transfer, grouping and layer preparation systems, connecting conveyors with upstream line.
Specific features
Possibility to work with pallets on the ground or with pallets on motorized roller conveyors.
Processable pallets measure: all types of pallets. Speed: up to 14 movements per minute.
Multiple gripping head: with suction cups, side clamps, vacuum.
PLC SIEMENS or OMRON
Brushless motors ensure precision and efficiency in positioning the products according to the required palletization scheme
Details

Tron Robot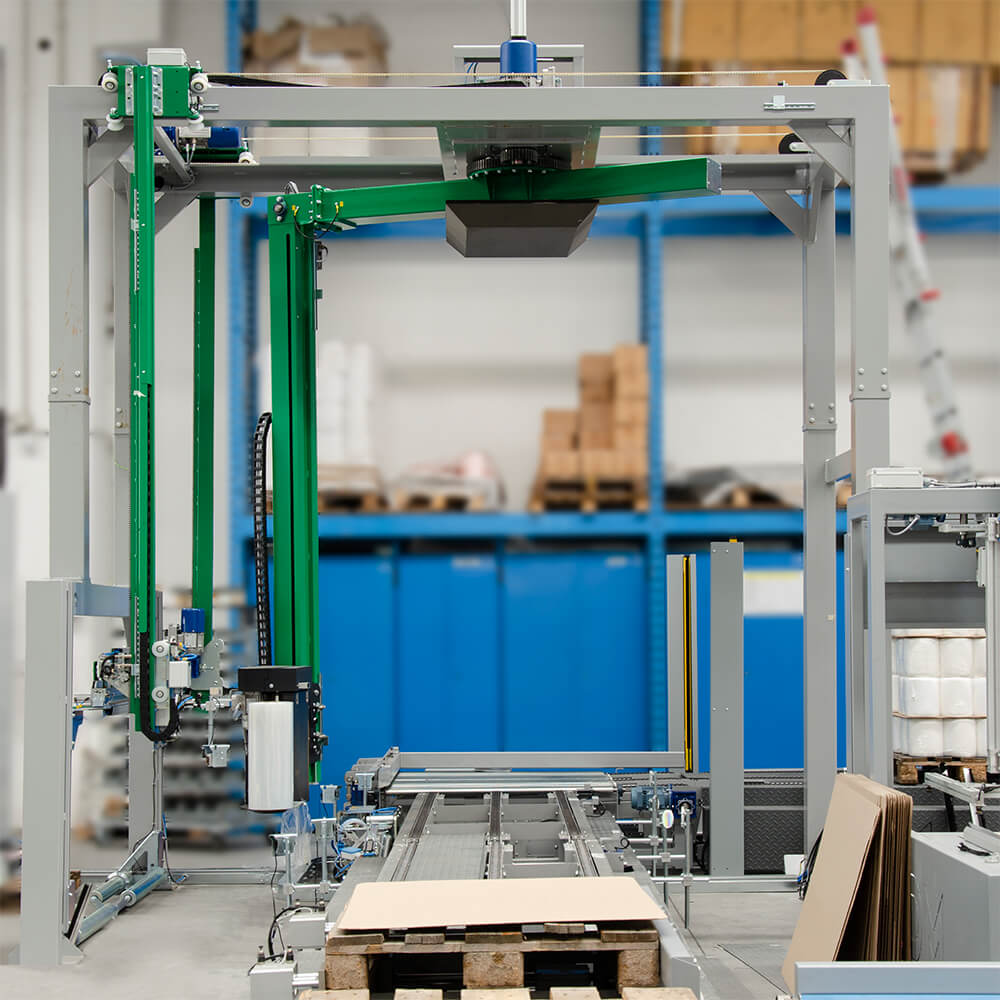 Motorized roller conveyors for empty and full pallets accumulation and transport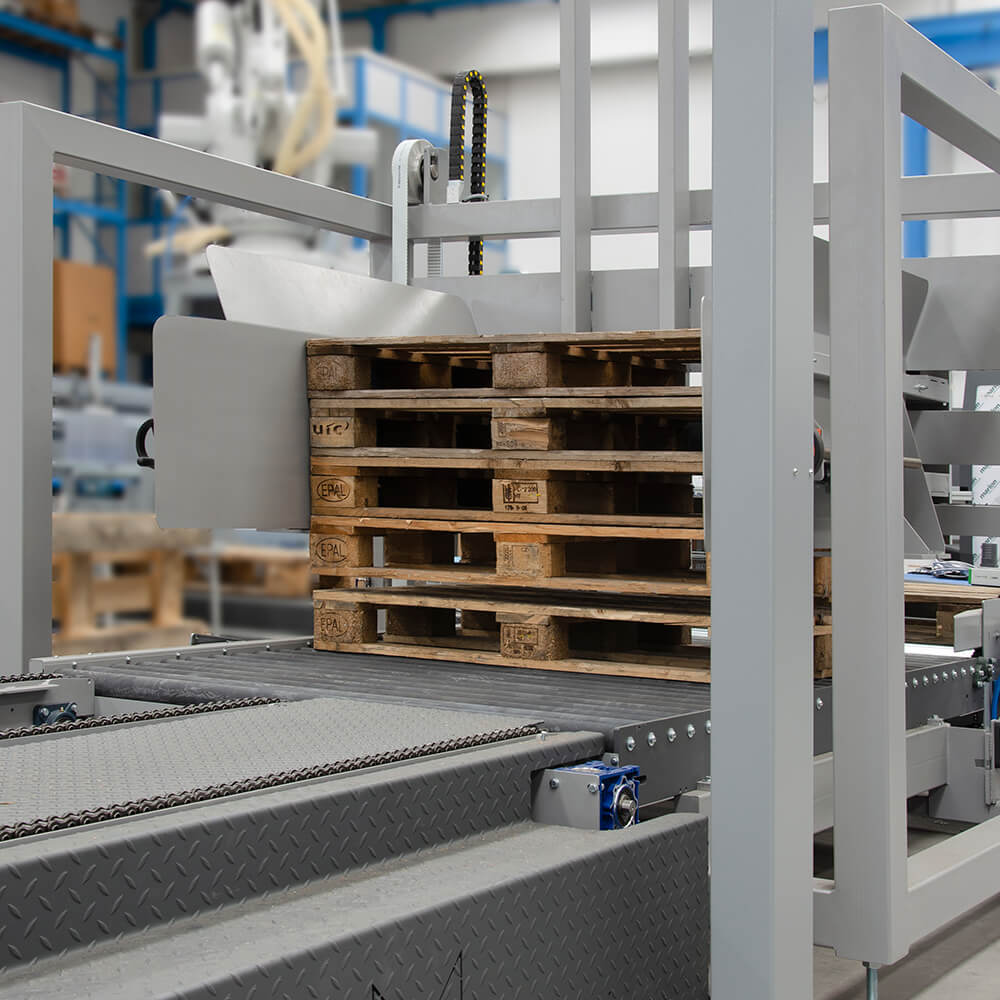 automatic pallet dispenser, designed to store up to 15 pallets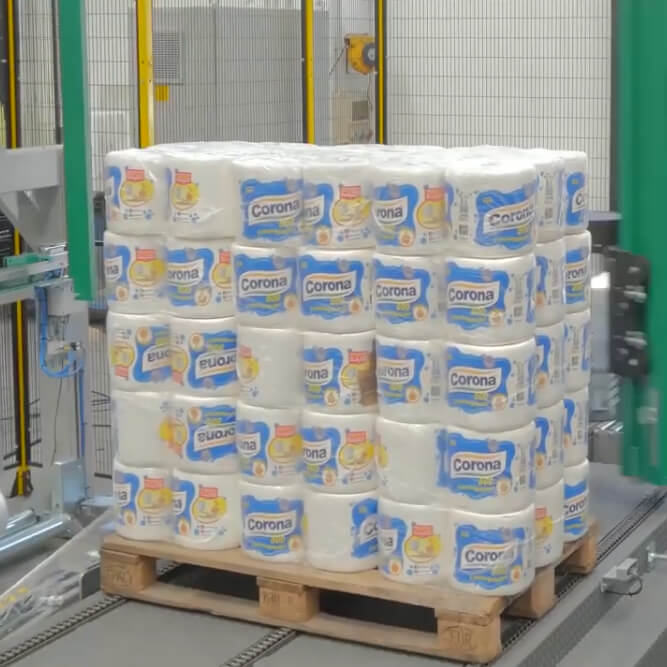 Automatic stretch wrappers with perimeter protections, also available with sealing unit, pre-stretch and top cover applicator.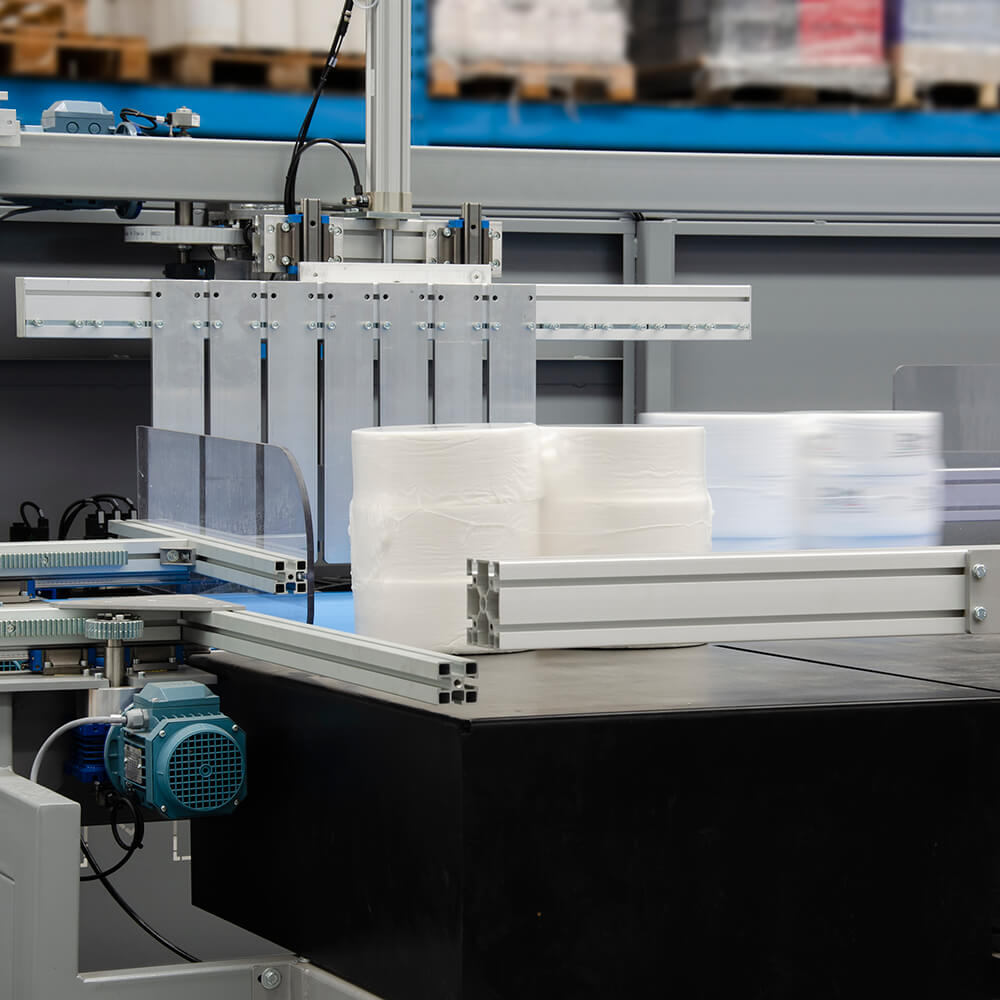 feeding systems equipped with motorized pushers, to divert incoming products in different channels towards the palletizing station.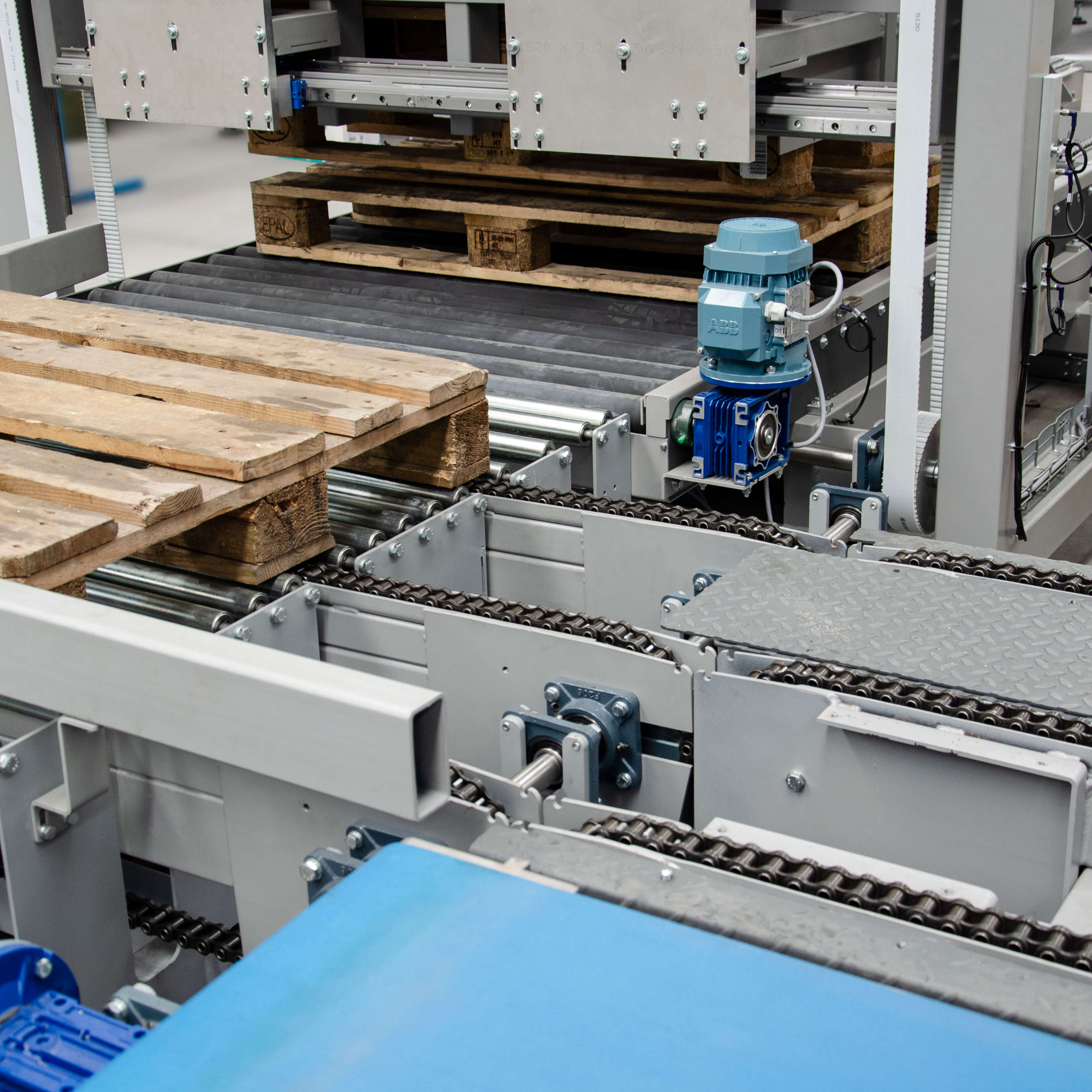 90 ° transfer for empty pallet moving towards filling station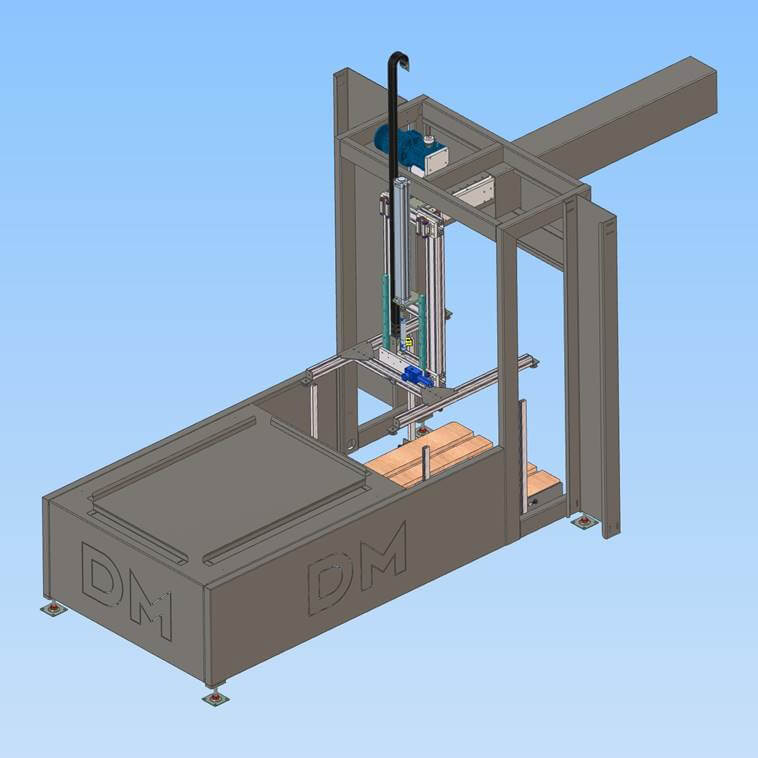 automatic interlayer/carton storage, for greater stability to the pallet