Gea
Automatic cartoner
Highly automated automatic cartoner that works with pre-glued case. Ideal for single or multipack products. The pre-glued, closed cardboard cases are released with care and precision from storage and then opened to receive the product inside. Insertion is carried out using one (if the intermittent version) or more pushers (if the continuous version), which work on a parallel lane. Closure of the side flaps can be carried out thanks to application of a spot of glue or using the "tuck-in" system (as an optional).
Available in the intermittent (up to 35 ppm) and continuous (80 to 150 ppm) versions
Click on the active point for more information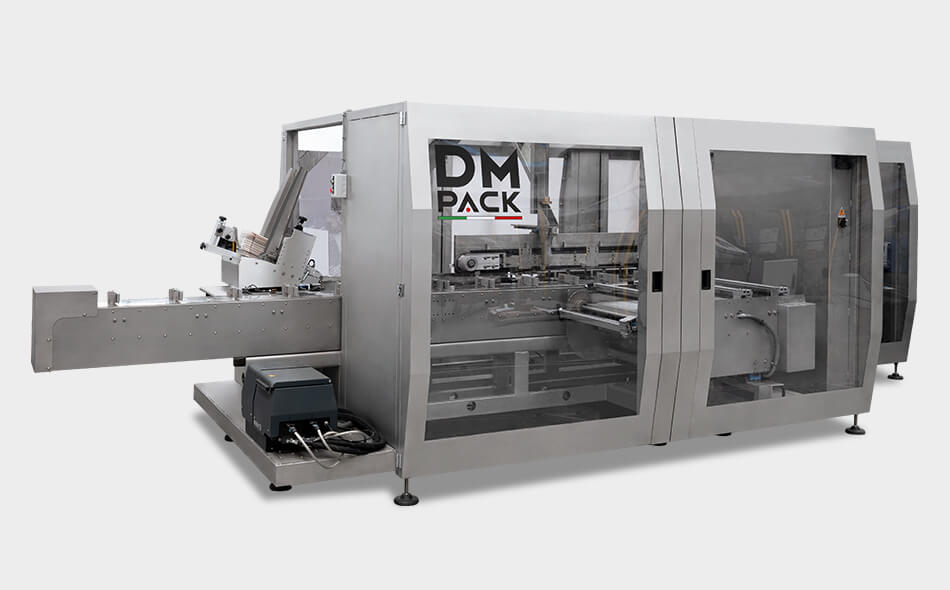 Compact, robust, accessible, open and simple to use. The cantilever structure allows easy maintenance and cleaning operations. Excellent for food sectors where cleaning and hygiene are binding.
Glue unit with Meler hot melt extruder (Nordson, Noxon available as an optional on the client's request)
Case storage with photocell indicating storage almost finished

SIEMENS or OMRON touch screen with possibility of saving up to 30 recipes, which are easily referenced from the panel.
Precise and synchronised, motorised side belts to ensure the end product during outfeed

Rotating touch screen and doors opening on both sides allow the operator to check the machine on both sides. Possibility of saving up to 30 recipes, easily referenced from the operator panel. Right and left machine.
General features
Cartoner with excellent performance composed of a cantilever structure completely accessible and with mechanics on view. Available in 2 versions, Intermittent (up to 35 cases per minute) and Continuous (up to 200 cases per minute). Works with pre-glued cardboard and side filling thanks to one or more pushers or, in a semi-automatic version, is carried out by the operator. SIEMENS or OMRON touch screen, intuitive and easy to use. Programming based on recipes, simple mechanical handwheels and digital counter making the change of three sizes easy, fast and recurring. Most of the adjustments are motorised, electrical and savable.
Specific features
Reduced dimensions for a high performance machine. Machine dimensions based on speed: from 4 m Length, 1.9 m wide.
MINIMUM DIMENSIONS OF CASE - intermittent version: L 60 x W 40 x H 20 mm; MINIMUM DIMENSIONS OF CASE - continuous version: L 160 x W 40 x H 20 mm.
MAXIMUM DIMENSIONS OF CASE - intermittent version L 400 x W 400 x H 100 mm MAXIMUM DIMENSIONS OF CASE - continuous version L 300 x W 300 x H 100 mm;
Standard: Painted steel. Available in the painted stainless steel version Chains, pulley, pinions are nickel-plated in the stainless steel version, In the standard version they are galvanised.
MAX. speed INTERMITTENT version: 30-35 ppm MAX. speed CONTINUOUS version: from 80 to 150 ppm
Also available in the GEA + version, for larger case dimensions.
High quality components, ISO certificated
Details

Gea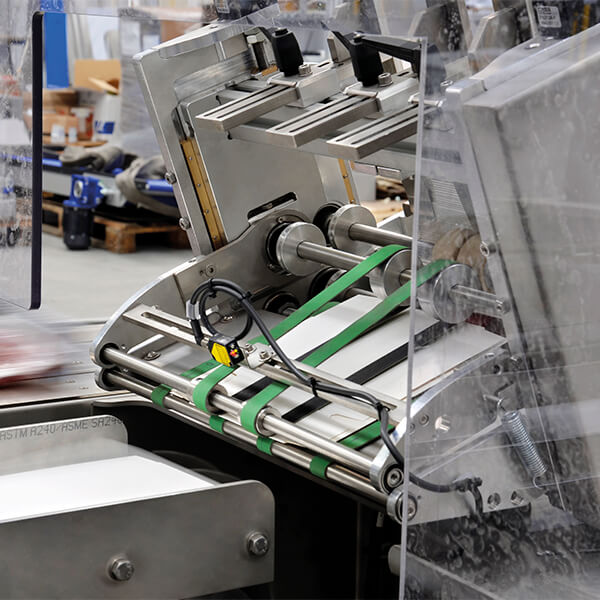 Precise and efficient release system of cases from storage, in the continuous version or using the motorised arm equipped with suction cups in the intermittent version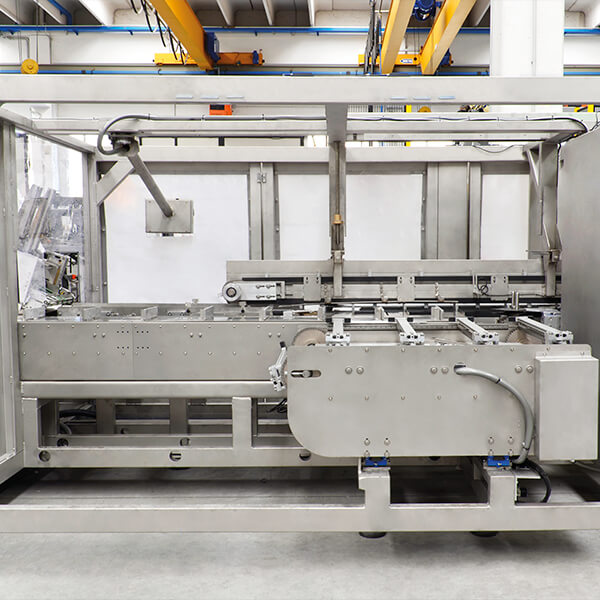 Cantilever structure completely accessible in all parts, for easy and rapid maintenance and cleaning. Optimal hygiene-sanitary construction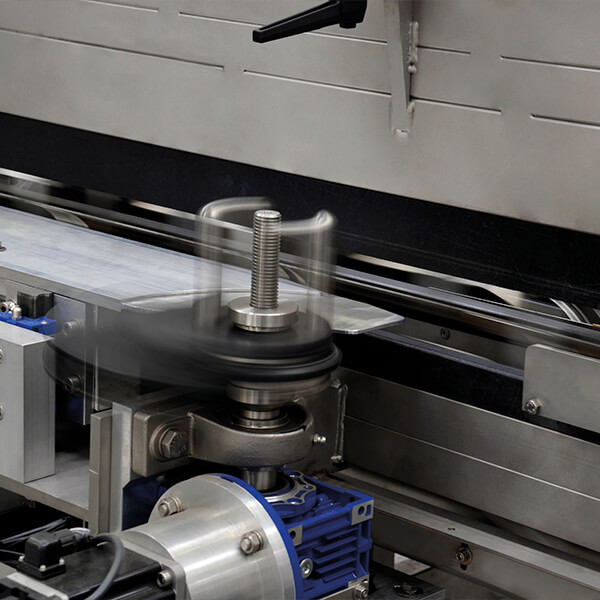 Side flaps closed using glue spot application or using tuck-in system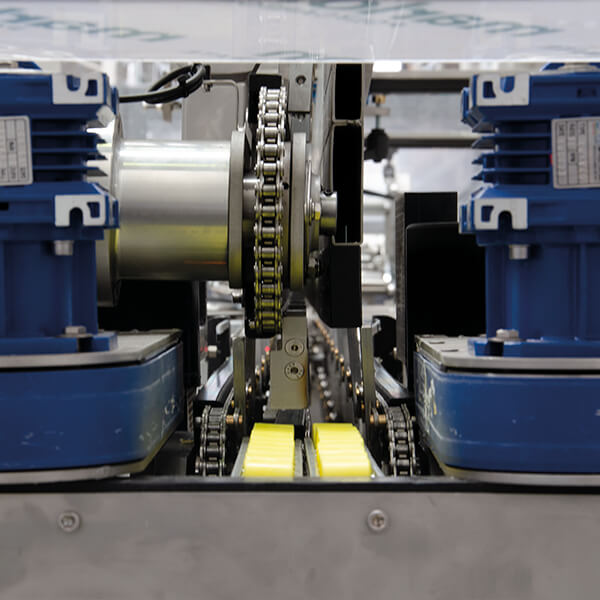 Motorised side belts ensure outfeed product stability also at high speeds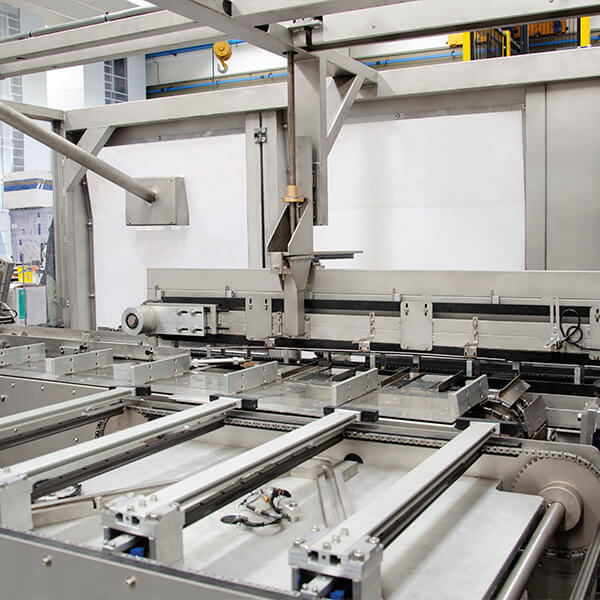 Row of motorised pushers enable precise, continuous insertion of the product inside the case.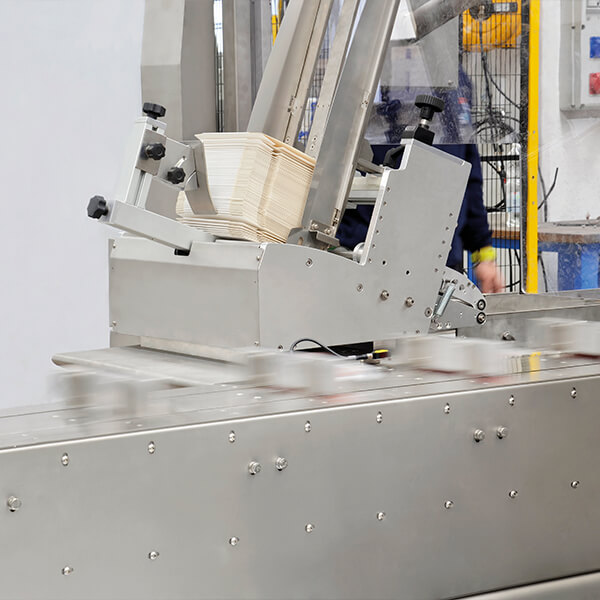 Conveyor belt designed to product measurement, available in cups, sections or smooth.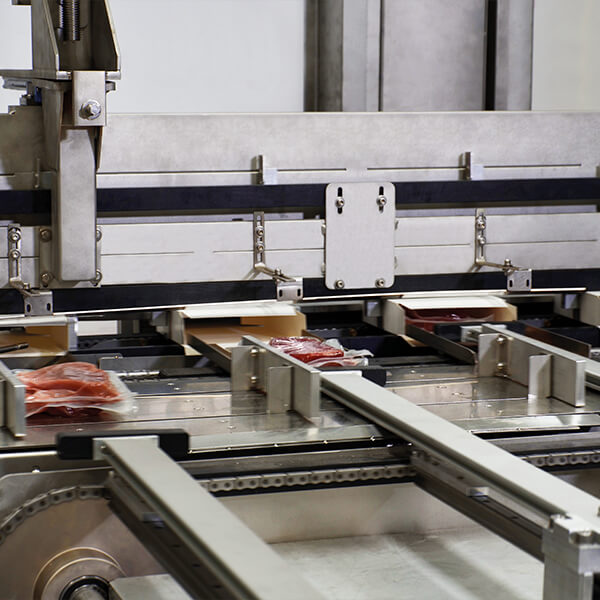 Output station with guide belts adjusted to the dimensions of the box.