Conveyor Belts
The conveyor belts can be simple in canvas, in intralox plastic for foodstuff use, shutters, palettes, cups or sections, automated or idle rollers, based on requirements. Made to measure, based on the customer's layout and the space available. They can be on the ground or elevated, with passages for practical access to the various zones of the production line.
Click on the active point for more information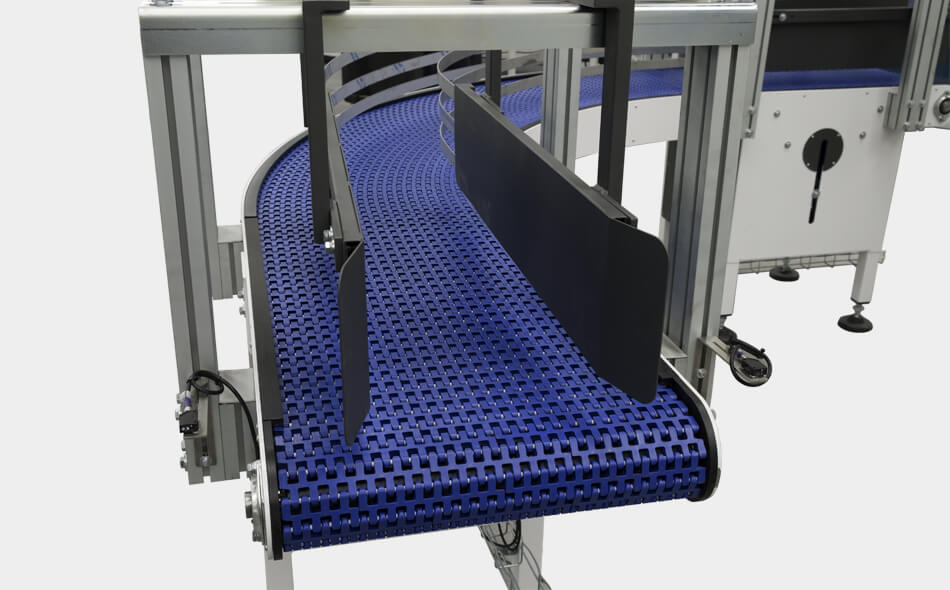 in plastic, Intralox, in canvas, with rollers, palettes according to needs, applications, weights, and formats of the products.
The central guide ensures stability and robustness of the belt which can assemble different types of materials: Intralox, cloth, sponge and mesh according to the product that must be transported.
The belts can be manufactured in stainless steel.
The belts can be equipped with camera systems to control product positioning along the line.
The belts can be equipped with evacuation systems of the product, by-pass or changes of direction.
The belts can be equipped with a label applicator, adhesive labelling machine, print systems, weighing systems, etc.
Automatic modular conveyors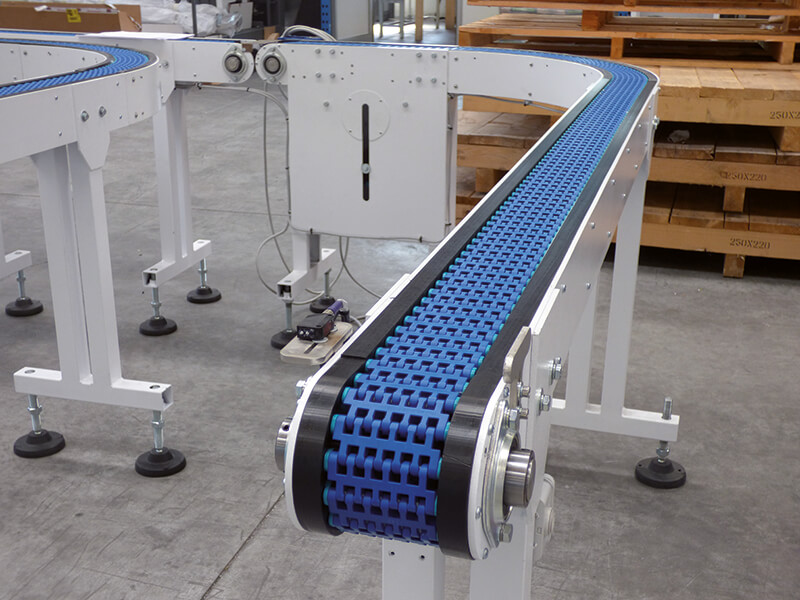 General features
Automatic conveyor belts connecting our machines to the machines upstream and downstream and joining the various line stations to compose lines according to customer space and requirements.
Each conveyor belt is designed and built for safe and delicate movement of products along the entire line.
Each conveyor is equipped with a reduction gear with a motor and inverter.
The speed can be modified using the touch screen.
Each conveyor belt is equipped with adjustable side guides with panels.
The structure of the conveyor belts enables perfect cleaning.

Specific features
Width from 150 mm to 3 metres, working surface height 900 +/-50; adjustable on feet, as an optional on wheels or rails. Adjustable speed. Thanks to our joining belts, we can create solutions to manufacture complete plants for customised sealing and cartoning and line end (palletisation).
High quality components, ISO certificated
Details

Conveyor Belts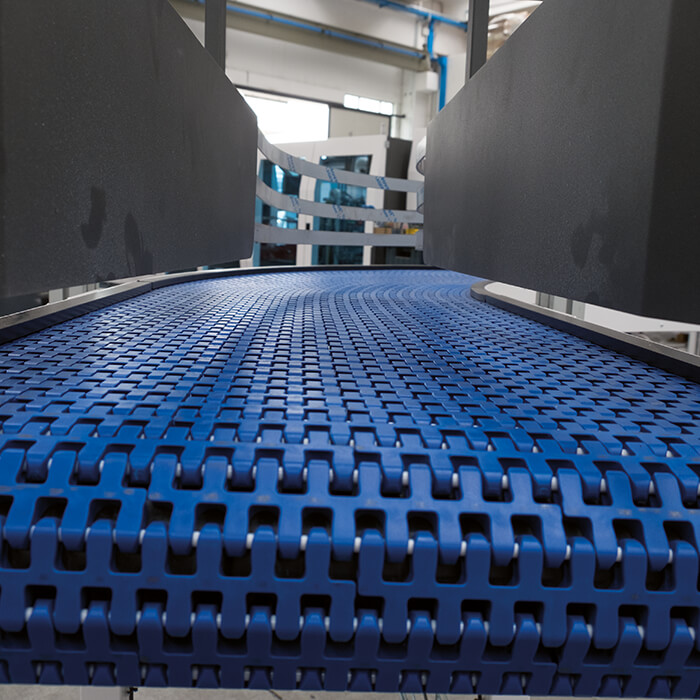 With motorized or idle rollers, in canvas or intralox plastic.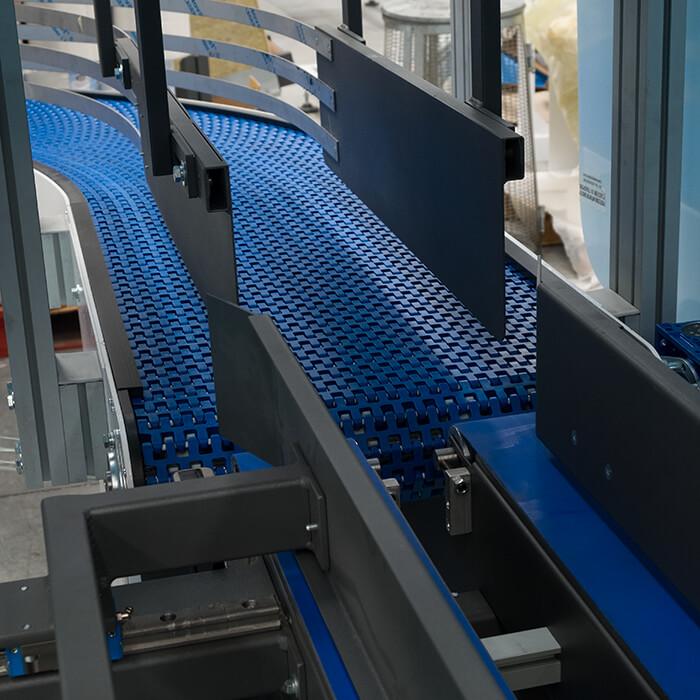 Infinite connection modularity between the machines.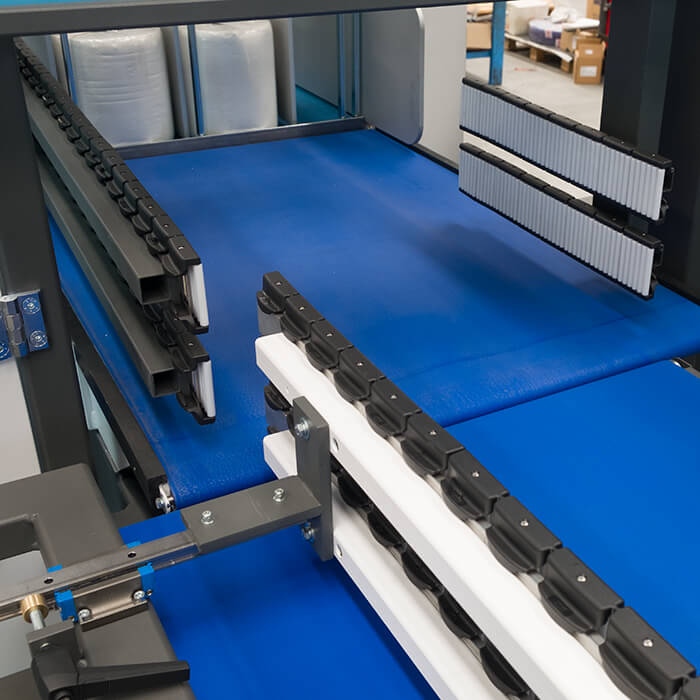 Possible adjustment from both sides.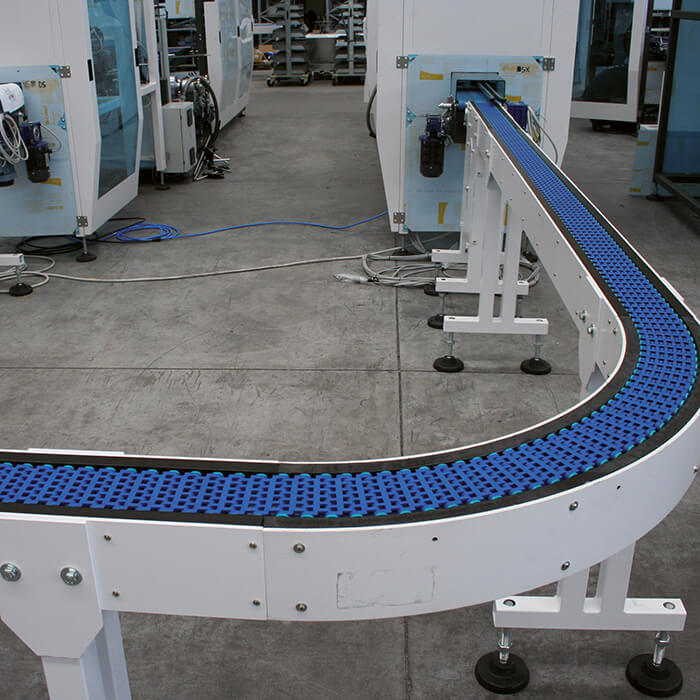 Examples of layout, compositions and systems.