Dron continue
Tray Packer & Wrap Around machine
Automatic tray packer machine with box opening systems to open boxes, to position them under the multipack and to close them around the multipack. The cardboard trays are opened, formed and positioned ready to receive the cans or other products prepared in multipacks. Automatic tray packer or wrap around machine using the box itself for partial wrapping (tray) or total (wrap around) of the product. Thanks to appropriate systems, the box is picked on the upper level and on which the products to tray are pushed or positioned using automatic robotic or pick & place systems. The products inside the box can be placed vertically, horizontally, on their edges, single or in multipacks with various levels. The machine can work with trays, flat boxes, display boxes and boxes with lids which can be automatically added to cover the box.
Click on the active point for more information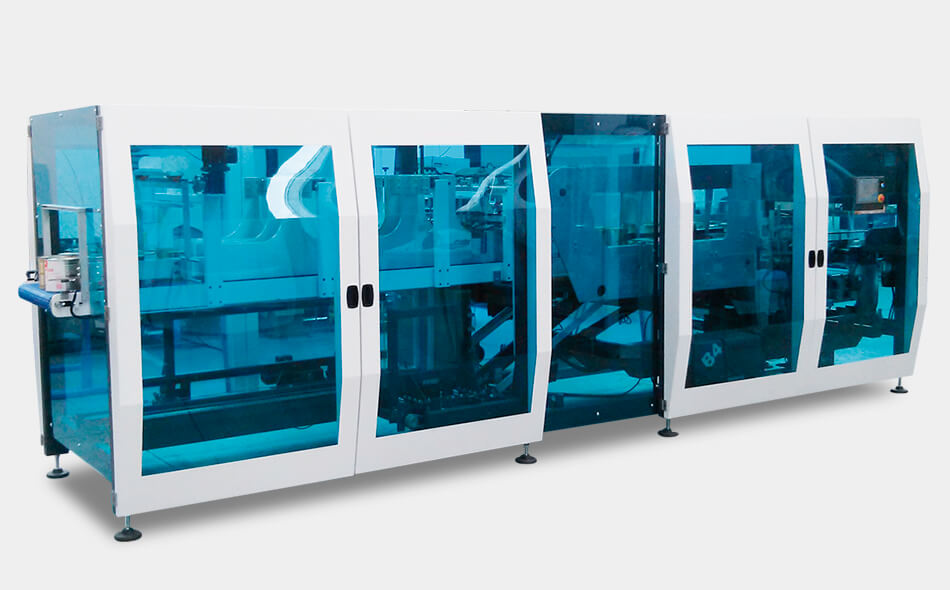 Opening door for easy and fast access to the products passage area for cleaning and loading of boxes.
Preparation of the multipack using moving channels with the possibility of obtaining various formats.
Precise insertion system for products in box.
Touch screen command panel for easy and intuitive use.
Highly versatile, with boxes in various shapes and sizes. Simple adjustments of the box loading system enables fast format change.
Grouping of products using a stacker, channel diverter, rotary pushers, accumulators and uprighting machines with star-shaped belts.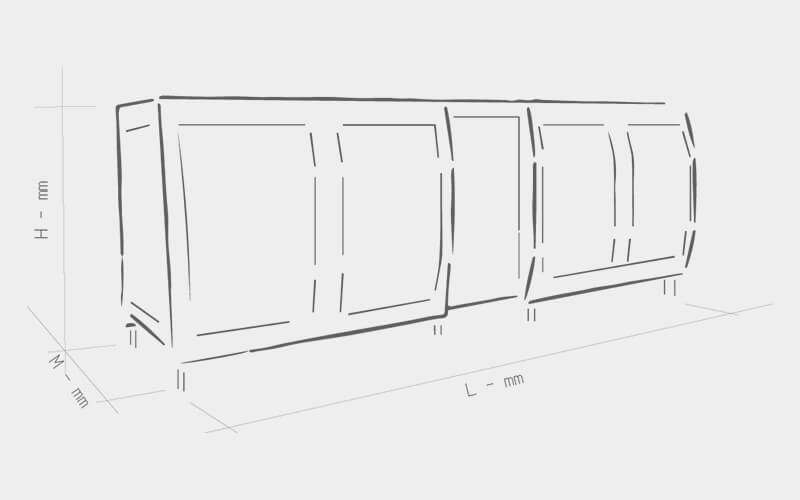 General features
The products can vary in nature: from food products in bags with a square base, pillow bags, boxes, bottles and cans, from sponge to fabrics, to cosmetic products, loose or previously packaged with flowpack, sleeve wrapper bundlers or packaging machines. The machines are equipped with electronic adjustments, which can be saved.
The machine can have cardboard pads, trays, pre-formed boxes inserted or wrap boxes around a product using the die cut itself, adequately shaped, and forming the box around the product, automatic sealing it with glue, thereby achieving a high level of compactness for the entire package. The automatic tray stacker machine has a variable measurement of box storage.
Box picking system with mechanical-pneumatic movement and with special suction cups. Picking system including two pneumatic arms assembled on linear guides. The movements are controlled by motors managed by inverters and connected to encoders.
Specific features
Product conveyor system positioned on the tray with vertical rungs and length, which can be modified, from the touch screen panel with electric movement.
Closure system of the box flaps with the pneumatic system.
Movement of the box positioned in a "U" shape on the fixed rungs of the conveyor chain controlled via inverter.
Closure system of the box flaps with hot melt system or with hot glue.
Measurements of the open box 150x150 mm, maximum 500x800 mm..
Measurement of box with flaps h 30-100 mm.
Special measurements available on request.
Siemens touch command panel.
Siemens PLC.
High quality, electrical components.
Highly versatile, thanks to use of various programs on the PLC.
Self-diagnosis of the system to alert the operator in the event of problems.
Electric box with easy access with counters and solid state relay.
Emergency circuit according to standards in force for CE marking.
Total installed power 4kw.
Compressed air consumption maximum 200nl/h.
Compressed air: 6bar.
Bypass or no tray function possible (optional).
High quality components, ISO certificated
Details

Dron continue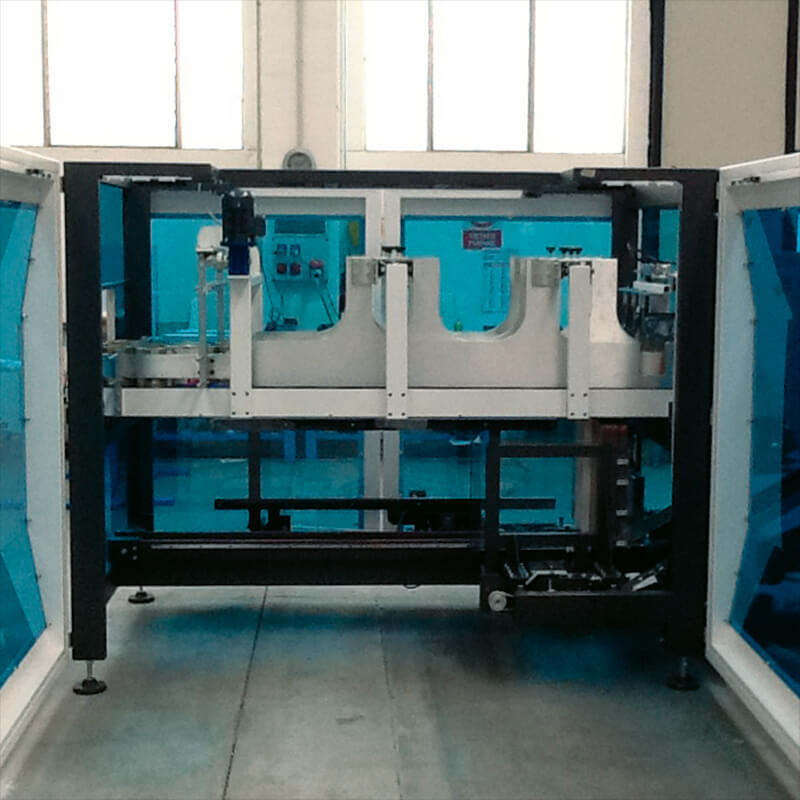 Doors can be opened for easy access.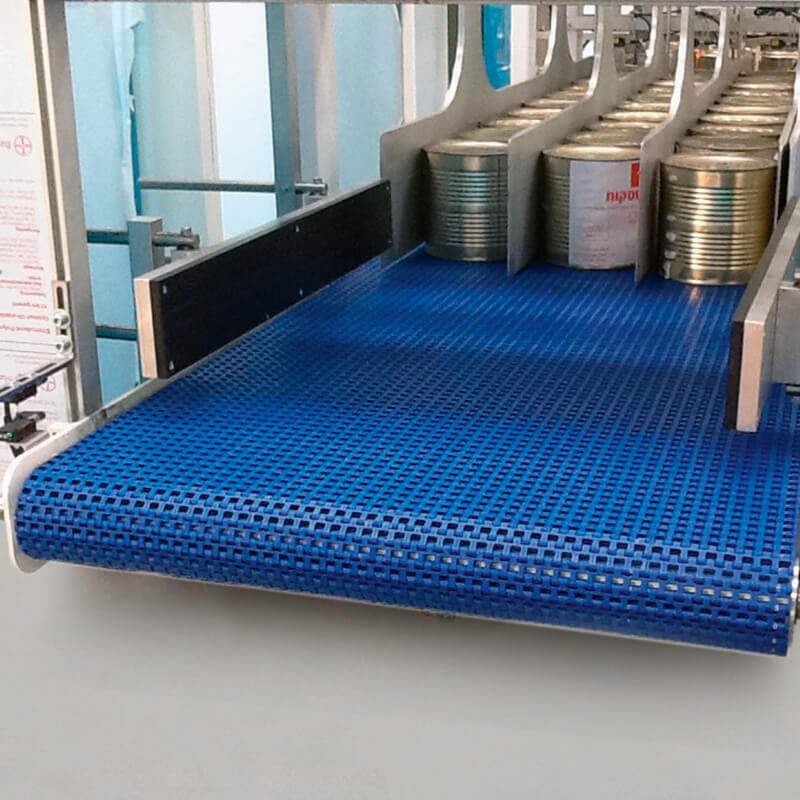 Input belt adjustable for the product dimensions and grouping, to guarantee maximum flexibility.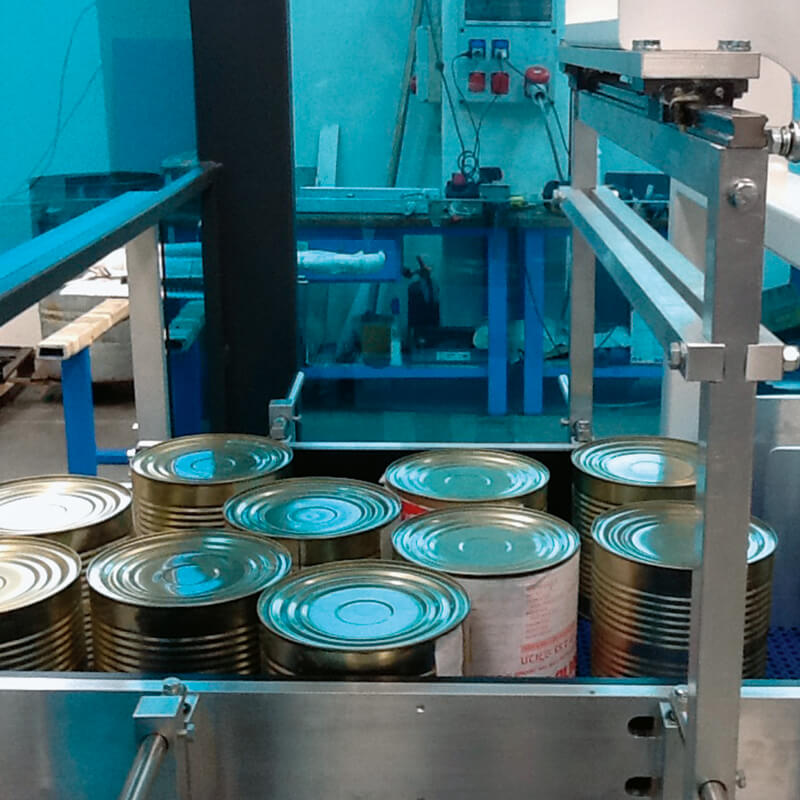 Vibration system of the products before insertion.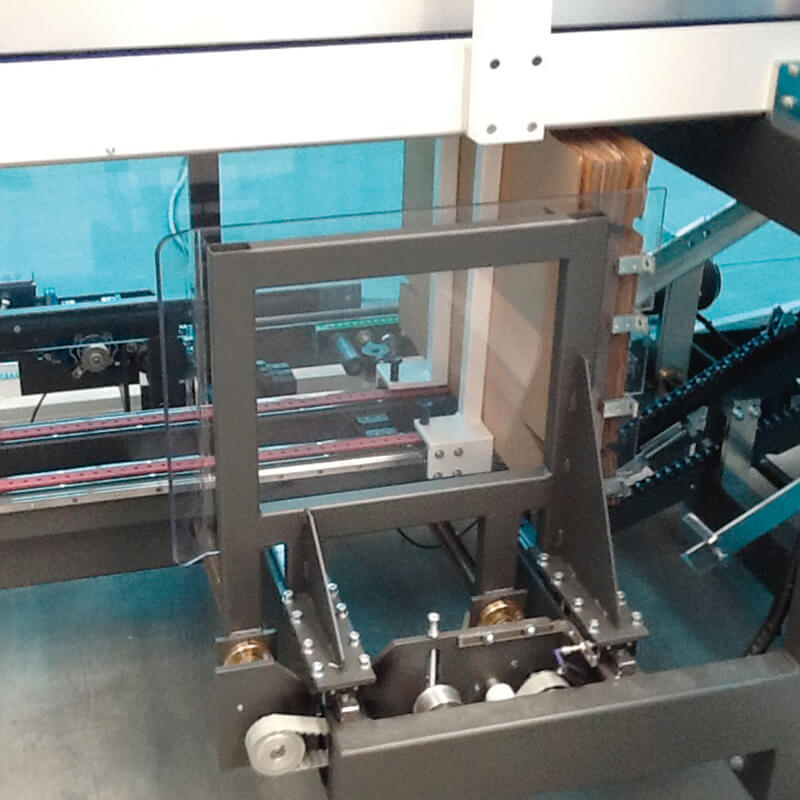 Box storage can be adjusted to use different sized boxes.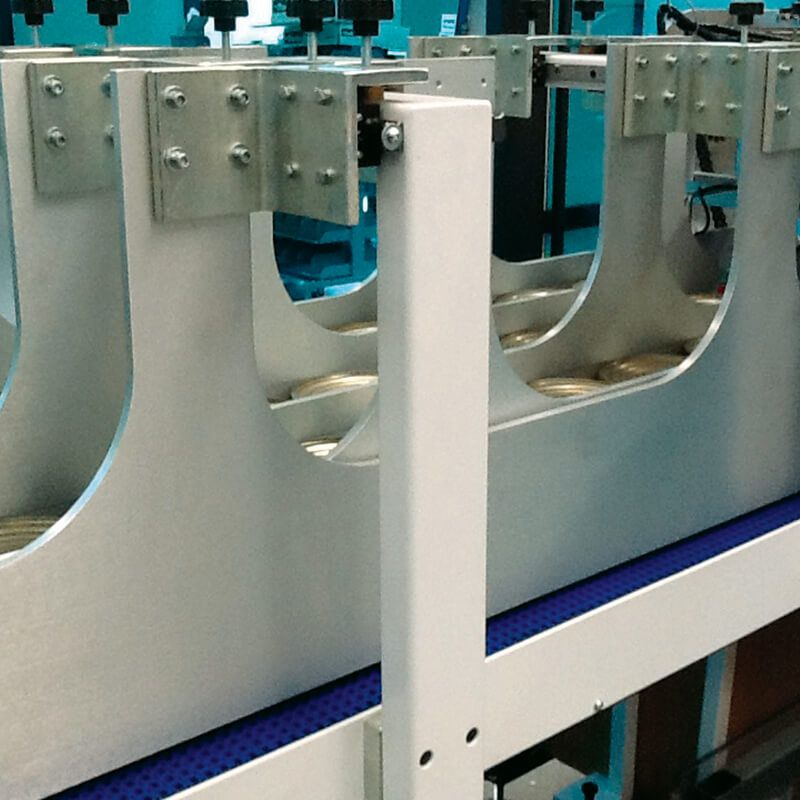 Moving guides for multipack preparation.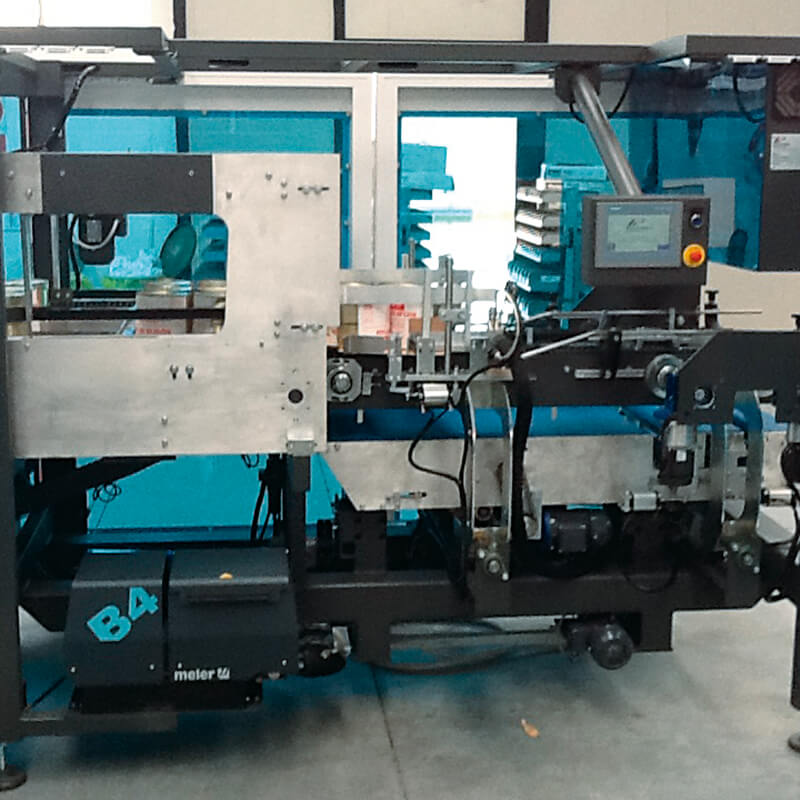 Machine can be completely opened and accessible anywhere.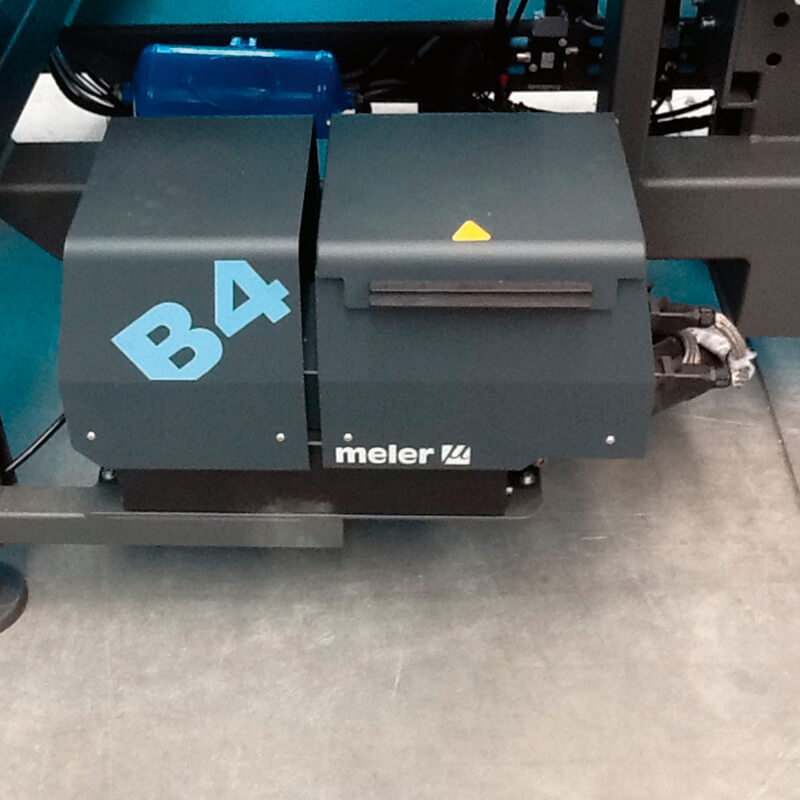 Hot gluing system.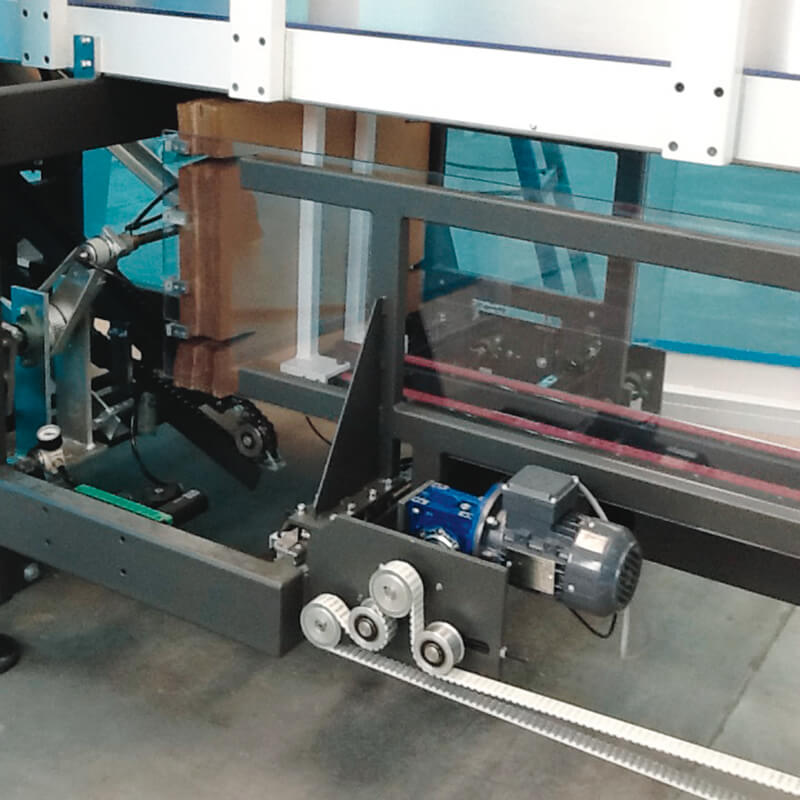 Box storage adjustment with electric movements.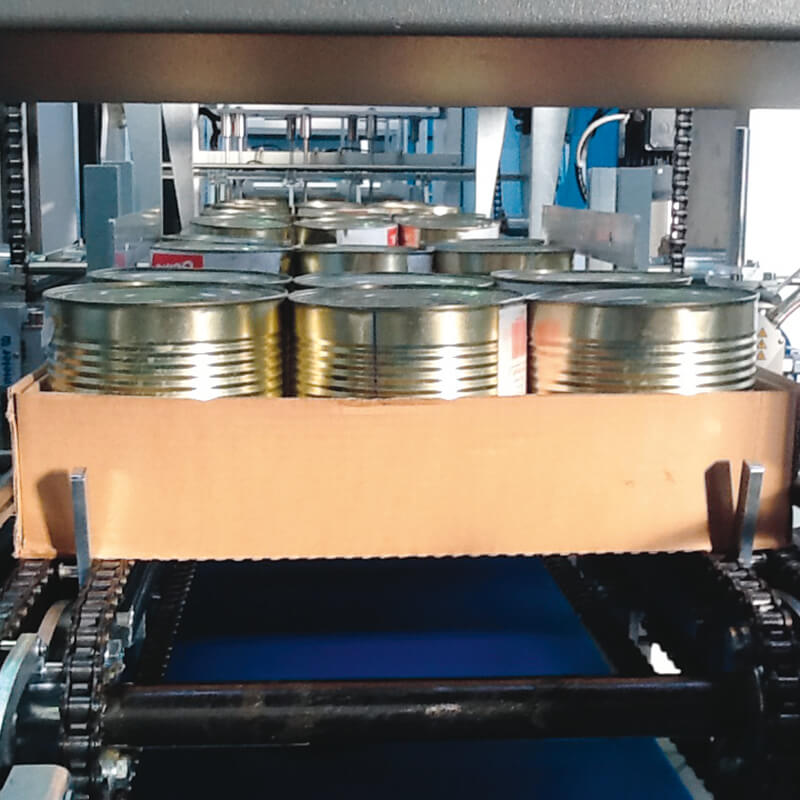 End result after application and closure of the tray around the product.